A Door in the Earth (Hardcover)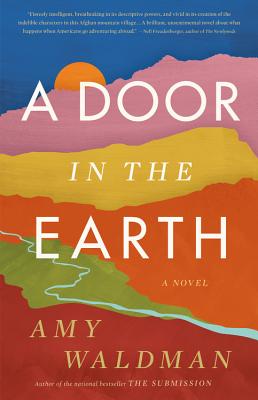 Description
---
From the author of the national bestseller The Submission comes the journey of a young Afghan-American woman trapped between her ideals and the complicated truth in this "penetrating" (O, Oprah Magazine), "stealthily suspenseful," (Booklist, starred review), "breathtaking and achingly nuanced" (Kirkus, starred review) novel for readers of Cutting for Stone and The Reluctant Fundamentalist.
Parveen Shams, a college senior in search of a calling, feels pulled between her charismatic and mercurial anthropology professor and the comfortable but predictable Afghan-American community in her Northern California hometown. When she discovers a bestselling book called Mother Afghanistan, a memoir by humanitarian Gideon Crane that has become a bible for American engagement in the country, she is inspired. Galvanized by Crane's experience, Parveen travels to a remote village in the land of her birth to join the work of his charitable foundation.
When she arrives, however, Crane's maternity clinic, while grandly equipped, is mostly unstaffed. The villagers do not exhibit the gratitude she expected to receive. And Crane's memoir appears to be littered with mistakes, or outright fabrications. As the reasons for Parveen's pilgrimage crumble beneath her, the U.S. military, also drawn by Crane's book, turns up to pave the solde road to the village, bringing the war in their wake. When a fatal ambush occurs, Parveen must decide whether her loyalties lie with the villagers or the soldiers -- and she must determine her own relationship to the truth.
Amy Waldman, who reported from Afghanistan for the New York Times after 9/11, has created a taut, propulsive novel about power, perspective, and idealism, brushing aside the dust of America's longest-standing war to reveal the complicated truths beneath. A Door in the Earth is the rarest of books, one that helps us understand living history through poignant characters and unforgettable storytelling.
About the Author
---
Amy Waldman's first novel,
The Submission
, was a national bestseller, a PEN/Hemingway Award finalist, and the #1 Book of the Year for
Entertainment Weekly
and
Esquire
. A former bureau chief for
The New York Times
and national correspondent for
The Atlantic
as well as a fellow at the Radcliffe Institute and the American Academy in Berlin, she lives with her family in Brooklyn.
Praise For…
---
"A teeming
panoply...layers moving storytelling onto penetrating reportage...bravely situated
in Afghanistan itself, eroding the myth of the good occupier...Waldman is particularly gifted at giving tangible reality to ethical
dilemmas...Few contemporary authors have shown so expertly that
well-intentioned intervention can be the most dangerous kind of all...
A Door in the Earth
makes a persuasive
case for the novel as a powerful source of insight into our moral limitations.
In an age when we're tempted by Google and social media to believe we know more
than we do, that insight is perhaps more valuable than ever."—
Lara Feigel, New York Times Book Review
"Waldman has crafted a story that doesn't shrink from
moral ambiguity and difficult questions."—
Joumana Khatib, New York Times, 11 New Books to Watch For in August
"In her illuminating second novel, Waldman unpeels layers of cultural conditioning to explore the American use of 'kind power.'"—
BBC, Ten Books to Read This August
"Amy Waldman's penetrating second novel speaks
truth to power."—
Leigh Haber, O, The Oprah Magazine
"Waldman writes about the clash of cultures and ideals with clean-lined
grace and quiet eye-level empathy."—
Entertainment Weekly
"Waldman throws open
her smart novel, extending it beyond the perceptions of one American to capture
an array of perspectives, from the village commander to the midwife, and
exposes the tragic consequences of unbridled idealism, the dark side of
American intervention, and the fantasies and lies that sustain an ongoing war."—
National Book Review
"
A Door in the Earth
is written with the precision of a journalist, and the narrative structure of a born novelist."—
Elena Nicolaou, Refinery 29
"Through a kaleidoscope of shifting perspectives, Waldman delivers a breathtaking and achingly nuanced examination of the grays in a landscape where black and white answers have long been the only currency. A bone-chilling takedown of America's misguided use of soft power."—
Kirkus Reviews (starred review)
"Waldman is an ingenious and probing situational novelist . . . In this
deeply well-informed, utterly engrossing, mischievously disarming, and stealthily suspenseful tale
of slow and painful realizations, she hits the mark over and over again . . .
Every aspect of this complex and caustic tale of hype and harm is saturated with insight
and ruefulness as Parveen wises up and Waldman considers womanhood and choice, literacy and translation, hubris and lies, unintended consequences, and the devastating chaos of war."—
Donna Seaman, Booklist (starred review)
"Waldman returns [after
The Submission
]
with an even more ambitious novel,
A Door in
the Earth
, which proves to be as politically provocative and challenging as
its predecessor. Drawing on her years based in Afghanistan, she takes readers
deep into the heart of the country, transporting us to a remote and largely
unremarkable village, ringed by mountains far from the ongoing military
conflicts that make headlines overseas . . .
A Door in the Earth
is a
deeply chilling, multifaceted examination of not just the situation in Afghanistan
but also the more pernicious and complex consequences of awakening the sleeping
giant that is America and receiving its attentions--whether benevolent or not.
Waldman plays out Newton's third law of motion on the human scale,
demonstrating that for every action, there is always an equal and opposite
reaction. As [her protagonist] Parveen learns a little too late, 'There is no
such thing as an innocuous interaction: there were always repercussions, always
collateral damage, for others.'"—
Stephenie Harrison, Bookpage (starred review)
"With
A Door in the Earth
, Amy Waldman more than confirms the great talent that she showed in her first novel,
The Submission
.
A Door in the Earth
plays on true events in Afghanistan -- a country Waldman knows well from her career as a journalist -- but wholly reimagines them in a way that raises urgent questions about the ethics of 'saving' people we don't know. I haven't read anything more acute about the consequences of good American intentions sent abroad. Waldman's moral vision, spare and unsparing prose style, and feel for the way history upsets settled lives all make
A Door in the Earth
one of the essential books of the post-9/11 era."—
George Packer, National Book Award winner for The Unwinding
"Amy Waldman brings her fierce intelligence and breathtaking descriptive powers to bear in this brilliant, unsentimental novel about what happens when Americans go adventuring abroad. The author's vast experience in the region is evident in the vividness with which she creates the social world of an Aghan mountain village. But the miracle of
A Door in the Earth
is that a novel which tackles such urgent and necessary questions of politics, history, and the compromises of war can also be so unflaggingly searing and gripping, and bring its characters so indelibly to life."—
Nell Freudenberger, New York Times bestselling author of Lost and Wanted
"Some stories stick with you, becoming like your own memories. When I finished the last page of this book I could've sworn it had all happened to me."—
Elliot Ackerman, National Book Award finalist for Dark at the Crossing
"Potent...Waldman paints a blistering portrayal of the misguided aspirations and convenient lies that have fed the war in Afghanistan. This is an impressive novel.—
Publishers Weekly
"Waldman's new work offers a deeply complicated
and thought-provoking story about the purposeful obfuscation of truth in
service to Western idealism."—
Joshua Finnnell, Library Journal
Praise for THE SUBMISSION:
"Affecting...Nervy and absorbing...Writing in limber, detailed prose, Waldman has created a choral novel with a big historical backdrop and pointillist emotional detail...It is Ms. Waldman's ability to depict grief and anger that lends
The Submission
its extraordinary emotional ballast."—
Michiko Kakutani
,
New York Times
"A masterful debut...Dazzlingly crafted...Waldman unspools her story with the truth-bound grit of a seasoned journalist and the elegance of a born novelist."—
Leah Greenblatt
,
Entertainment Weekly
"Moving...Eloquent...A coherent, timely, and fascinating examination of a grieving America's relationship with itself."—
Chris Cleave
,
Washington Post
"Elegantly written and tightly plotted...In these unnerving times, in which Waldman has seen facts take the shape of her fiction, a historian's novel at once lucid, illuminating and entertaining is a necessary and valuable gift."—
Claire Messud
,
The New York Times Book Review
"Waldman returns with
an even more ambitious tome, which proves to be as politically provocative and
challenging as its predecessor. It's a multifaceted examination of not just the
situation in Afghanistan but also the complex consequences of awakening the
sleeping giant that is America and receiving its attention."—
Bookpage, Fall 2019 Preview: Most Anticipated Fiction