The American Supreme Court (Paperback)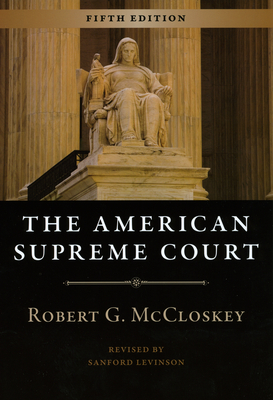 $22.00

Special Order—Subject to Availability
Description
---
Celebrating its fiftieth anniversary, Robert McCloskey's classic work on the Supreme Court's role in constructing the U.S. Constitution has introduced generations of students to the workings of our nation's highest court. For this new fifth edition, Sanford Levinson extends McCloskey's magisterial treatment to address the Court's most recent decisions.
As in prior editions, McCloskey's original text remains unchanged. In his historical interpretation, he argues that the strength of the Court has always been its sensitivity to the changing political scene, as well as its reluctance to stray too far from the main currents of public sentiments. In two revised chapters, Levinson shows how McCloskey's approach continues to illuminate developments since 2005, including the Court's decisions in cases arising out of the War on Terror, which range from issues of civil liberty to tests of executive power. He also discusses the Court's skepticism regarding campaign finance regulation; its affirmation of the right to bear arms; and the increasingly important nomination and confirmation process of Supreme Court justices, including that of the first Hispanic justice, Sonia Sotomayor.
The best and most concise account of the Supreme Court and its place in American politics, McCloskey's wonderfully readable book is an essential guide to the past, present, and future prospects of this institution.
About the Author
---
Robert G. McCloskey was professor of government at Harvard University. He is the author of American Conservatism in the Age of the Enterprise. Sanford Levinson is the W. St. John Garwood and W. St. John Garwood Jr. Centennial Chair in Law at the University of Texas Law School and professor of government at the University of Texas at Austin. He is the author of Constitutional Faith and Our Undemocratic Constitution: Where the Constitution Goes Wrong (and How We the People Can Correct It)."