Constitutional Courts and Democratic Values: A European Perspective (Paperback)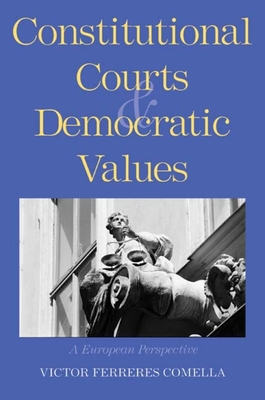 $60.00

Not On Our Shelves—Ships in 1-5 Days
Description
---
In this book, Víctor Ferreres Comella contrasts the European "centralized" constitutional court model, in which one court system is used to adjudicate constitutional questions, with a decentralized model, such as that of the United States, in which courts deal with both constitutional and nonconstitutional questions.
Comella's systematic exploration of the reasons for and against the creation of constitutional courts is rich in detail and offers an ambitious theory to justify the European preference for them. Based on extensive research on eighteen European countries, Comella finds that centralized review fits well with the civil law tradition and structures of ordinary adjudication in those countries. Comella concludes that—while the decentralized model works for the United States—there is more than one way to preserve democratic values and that these values are best preserved in the parliamentary democracies of Europe through constitutional courts.
About the Author
---
Víctor Ferreres Comella is professor of Constitutional Law at Pompeu Fabra University (Barcelona). He is currently teaching Constitutional Law and European Community Law at the Spanish Escuela Judicial (Judicial School), where young judges are trained.
Praise For…
---
"This book is an important contribution to English-language scholarship on comparative constitutional law. It provides the most detailed analytic description of the centralized model of constitutional review currently available. Everyone interested in this subject will need to read and think about Ferreres Comella's arguments."—Mark Tushnet, William Nelson Cromwell Professor of Law, Harvard Law School, and author of The Constitution of the United States of America: A Contextual Analysis
— Mark Tushnet