We're following all official guidelines to keep ourselves healthy on the job, and as a result, shipping may be delayed.
You will receive an email from our web orders team confirming that your order has been processed.
We thank you for your support and your patience at this challenging time.
Russia's Crony Capitalism: The Path from Market Economy to Kleptocracy (Hardcover)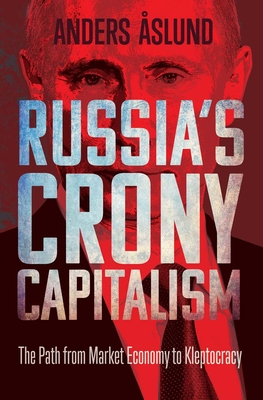 Description
---
A penetrating look into the extreme plutocracy Vladimir Putin has created and its implications for Russia's future

This insightful study explores how the economic system Vladimir Putin has developed in Russia works to consolidate control over the country. By appointing his close associates as heads of state enterprises and by giving control of the FSB and the judiciary to his friends from the KGB, he has enriched his business friends from Saint Petersburg with preferential government deals. Thus, Putin has created a super wealthy and loyal plutocracy that owes its existence to authoritarianism.
 
Much of this wealth has been hidden in offshore havens in the United States and the United Kingdom, where companies with anonymous owners and black money transfers are allowed to thrive. Though beneficial to a select few, this system has left Russia's economy in untenable stagnation, which Putin has tried to mask through military might.
About the Author
---
Anders Åslund is a leading specialist on economic policy in Russia, a senior fellow at the Atlantic Council in Washington, DC, and an adjunct professor at Georgetown University's School of Foreign Service.
Praise For…
---
 "Superb book"— Martin Wolf, Financial Times
"An excellent read."—Ariel Cohen, Forbes.com
Finalist for the Hayek Prize, sponsored by the Manhattan Institute
 
"An insightful and authoritative guide to Russia's economy since the fall of communism by the foremost Western expert on the subject."—Daniel Treisman, Professor of Political Science, University of California, Los Angeles
"Anders Åslund's economic analysis is impeccable. This is a hard-hitting, fact-based account of Putin's Russia."—Paul Gregory, University of Houston and Research Fellow, Hoover Institution, Stanford University
"No one in the outside world has followed and analyzed Russia's economic policies and trajectory since the demise of the Soviet Union as thoroughly as Anders Åslund. From the early radical reforms to today's stagnating kleptocracy, it's a huge story, and no one tells it better."—Carl Bildt, former Prime Minister and Foreign Minister of Sweden
 
"Anders Åslund has tracked Russia's economy since perestroika and has written the definitive assessment of Putin's kleptocratic system—how it functions and why it needs authoritarianism and xenophobia to survive."—Alexander Vershbow, former US Ambassador to Russia
"After a decade, Anders Åslund has returned to the subject of Russia and produced an interesting, well-written and challenging analysis of where the economy stands, how it got here, and where it and President Putin may be heading."—Stanley Fischer, Former First Deputy Managing Director of the IMF