Members Only (CD-Audio)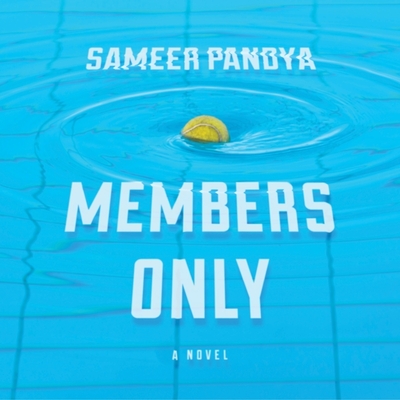 $25.00
Not On Our Shelves—Ships in 1-5 Days
Description
---
First the white members of Raj Bhatt's posh tennis club call him racist. Then his life falls apart. Along the way, he wonders: where does he, a brown man, belong in America?

Raj Bhatt is often unsure of where he belongs. Having moved to America from Bombay as a child, he knew few Indian kids. Now middle-aged, he lives mostly happily in California, with a job at a university.  Still, his white wife seems to fit in better than he does at times, especially at their tennis club, a place he's cautiously come to love. 
 
But it's there that, in one week, his life unravels. It begins at a meeting for potential new members: Raj thrills to find an African American couple on the list; he dreams of a more diverse club. But in an effort to connect, he makes a racist joke. The committee turns on him, no matter the years of prejudice he's put up with.  And worse still, he soon finds his job is in jeopardy after a group of students report him as a reverse racist, thanks to his alleged "anti-Western bias."
 
Heartfelt, humorous, and hard-hitting, Members Only explores what membership and belonging mean, as Raj navigates the complicated space between black and white America.

Narrated by Sunil Malhotra. AudioFile Earphones Award Winner.
About the Author
---
SAMEER PANDYA is the author of the story collection The Blind Writer, which was longlisted for the PEN/Open Book Award. He is also the recipient of the PEN/Civitella Fellowship. His fiction, commentary, and cultural criticism has appeared in a range of publications, including the Atlantic, Salon, Sports Illustrated, ESPN, and Narrative Magazine. He teaches creative writing and South Asian and Asian American literature at the University of California, Santa Barbara. Members Only is his first novel.
Praise For…
---
An NPR Best Book of 2020
A Millions Most Anticipated Title of 2020
A Rumpus Best Book for Asian and Pacific Islander American Heritage Month
"If 'Things Fall Apart' hadn't already been taken, it would be an apt title for Pandya's novel, which is as witty as it is woeful."
—
Elisabeth Egan, New York Times Book Review
"In Sameer Pandya's heart-pounding novel, every word Raj Bhatt says, every action he takes, is consequential...This is a nail-biting read because Raj's fate—a comfortable life unraveled by misinterpretations and words taken out of context—is all too familiar in today's world."
—
NPR.org
"I binged-read
Members Only
and it did not disappoint...Smart, funny, topical, and it does tennis right."
—
Jon Wertheim, Sports Illustrated's Beyond the Baseline
"The narrative ability that Pandya showed with his short story collection,
The Blind Writer
...is on display in
Members Only
. Pandya skillfully uses elements of the immigrant experience, mid-life crisis, and university life to weave a fictional spell. While the novel confronts serious themes such as racism, academic serfdom, and the dark side of viral social media, Pandya balances that weight with humor and irony...Good fiction is seductive. If the writer can seduce the reader to empathize with a character, to feel what the character feels, to care about the character, he or she has succeeded. Raj Bhatt is easy to like and I became caught up in his story, experiencing his doubts and fears as well as his joy."
—
Santa Barbara Independent
"Told with a deft touch,
Members Only
is fast-paced, enjoyable and often quite funny. But don't confuse wit with lightness. With tennis as its launching pad and moral center, this book offers a thoughtful look at contemporary American manners and mores, most pointedly in how we treat and discuss such sensitive topics as race and social class...And so,
Members Only,
a lively tale that conveys a deep set of questions about how tennis fits into a bigger contemporary American picture, addressing such complicated topics as aspiration, diversity, mobility and community. This book will make you laugh, but it will also make you think."
—
Tennis.com
"An intense, funny, and absolutely necessary novel about our current times. Accomplished storyteller Pandya has given all of us teachers a compulsive read for the days, the weeks, when we feel unmoored and even a slightly bit crazy."
—
Weike Wang, author of Chemistry
"Is extremely enjoyable anxiety a thing? Because that's how I felt as I sped through Professor Raj Bhatt's very bad week. A vital, tightly-written dive into our current swirl of confusion over privilege and power." 
—
Jade Chang, author of The Wangs vs. the World
"
Members Only
perfectly portrays how our careless words and casual comments have unintended ripple effects that couldn't possibly be predicted. This is a riveting story of misunderstanding and misrepresentation."
—
Laurie Gelman, author of Class Mom and You've Been Volunteered
"A timely story about prejudice and white privilege, set mainly at a private tennis club and a university in California...In a multi-racial society, race relations are themselves multi-lateral. Pandya bankshots questions that Americans face and ignore every day. Who has the right to call out racism? Does a white tennis club member have a finer insight on racism than an Indian immigrant? And how can college campuses accommodate free speech if the result is stifling professors who have a different worldview from the dominant one in the US? These questions and more are smoothly woven into the first person narrative of dilemmas at club and campus...
Members Only
is a thoughtful guide to these issues as they continue to make the news in the US on a daily basis."
—
Asian Review of Books
"This sense of belonging, of being Brown in a country that is so often seen as just white and Black, and the extremes to which some may go to belong is the crux of Sameer Pandya's debut novel,
Members Only
. Pandya presents the topic of racism and its relation to the Brown community in America; a topic which is so often overlooked when discussing the experience of race...Pandya does a phenomenal job of writing with a light-hearted hand, injecting humor into a story with heavy themes such as race relations, white-washed education, non-critical thinking in our education system and the fear of judgment keeping us away from finding our true selves. He does not shy away from the implications of speaking out. Pandya gives the South Asian Brown community a voice in the conversation on racism, our need to belong and the heartbreak of not fitting in...This book was subtle but powerful. On the surface, issues involving diversity and inclusion are discussed. Peeling back the layers, the more important issue at the heart of the novel is Raj's desire to belong. Through Raj's journey, Pandya lets readers know that belonging is a feeling that an entire group, organization, or society is responsible for cultivating."  
—
Brown Girl Magazine
"In Pandya's tense, sly debut novel (after the collection 
The Blind Writer
) a college lecturer faces accusations of racism and anti-American bias in a California suburb over the course of a fateful week. The taut, heartrending narrative offers deep insight into the ways the characters are shaped by racism. Pandya's sympathetic portrait of Raj's quest for acceptance will resonate with readers."—
Publishers Weekly
"A grand slam…Pandya's writing here is smooth, clear, funny, and often subtly beautiful.
Members Only
is the thoughtful page-turner we need right now."
—Booklist, starred review
"A crucial tale about belonging, 'otherism' and finding one's place, missteps and all . . . Pandya brings an authenticity to his subject's experience that unravels with introspective wonder."
—Pat Battle, The Book Table
 
"Fresh, original . . . Pandya probes the difficult areas between black and white America with piercing humor and nuanced insight."
—Linda McLoughlin Figel, {pages} a bookstore
 
"The angry, large-hearted, sad, laugh-out-loud book of our current moment. I won't soon forget Dr. Raj or this clear-eyed, masterful novel."
—Adlai Yeomans, White Whale Bookstore