Life Sentence: Stories from Four Decades of Court Reporting -- or, How I Fell Out of Love with the Canadian Justice System (Especially Judges) (Hardcover)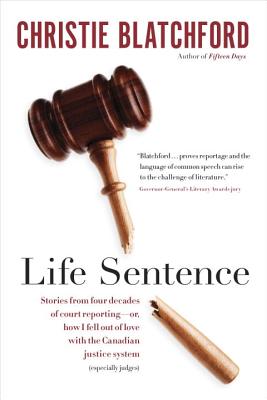 $28.95

Special Order—Subject to Availability
Description
---
A beloved crime reporter revisits some of her biggest assignments and passes judgement on our judicial system—and especially its judges—in this national bestseller.

When Christie Blatchford wandered into a Toronto courtroom in 1978 for the start of the first criminal trial she would cover as a newspaper reporter, little did she know she was also at the start of a self-imposed life sentence.
     She has been reporting from Canadian courtrooms for the Toronto Star, The Globe and Mail and the National Post ever since. Back in '78, she loved the courts, lawyers and judges, and that persisted for many years. But slowly, surely, she suffered a loss of faith. What happened? It was at the recent Mike Duffy trial she had the epiphany: That judges are the new senators, unelected, unaccountable and overly entitled. Yet unlike senators, they continue to get away with it because any questioning by government or its agents is deemed an intrusion onto judicial independence.
    In her explosive new book, Christie Blatchford revisits trials from throughout her career and asks the hard questions--about judges playing with the truth--through editing of criminal records, whitewashing of criminal records, pre-trial rulings that kick out evidence the jury can't hear. She discusses bad or troubled judges--how and why they get picked, and what can be done about them. And shows how judges are handmaidens to the state, as in the Bernardo trial when a small-town lawyer and an intellectual writer were pursued with more vigor than Karla Homolka.
     For anyone interested in the political and judicial fabric of this country, Life Sentence is a remarkable, argumentative, insightful and hugely important book.
About the Author
---
CHRISTIE BLATCHFORD was born in Quebec. She has written for all four Toronto-based newspapers. She has won a National Newspaper Award for column writing, and in 2008 won the Governor General's Literary Award in non-fiction for her book Fifteen Days: Stories of Bravery, Friendship, Life and Death from Inside the New Canadian Army. Blatchford is also the author of Helpless: Caledonia's Nightmare of Fear and Anarchy, and How the Law Failed All of Us. She lives in Toronto.
Praise For…
---
National Bestseller
Finalist for the Shaughnessy Cohen Prize for Political Writing
Shortlisted for the Arthur Ellis Award for Excellence in Crime Writing

"Every component of the Canadian justice factory gets its turn as an object of Blatchford's ire." —Maclean's

"In her remarkable new book, Life Sentence, Christie Blatchford describes the Canadian judiciary as 'unelected, unaccountable, entitled, expensive to maintain and remarkably smug.' . . . I wish I could disagree with Ms. Blatchford. But I can't." —Alice Woolley, University of Calgary law professor and president of the Canadian Association for Legal Ethics 

"There's a lot of meaty stuff about the Canadian criminal justice system in Blatchford's latest. Better yet, the meat comes wrapped in some crisp storytelling." —Winnipeg Free Press

Praise for Fifteen Days:
 • "This book will open your eyes to this brutal war and it is worthy of our brave young men and women. It is a tough book written by a tough broad who tells it like it is. I could not put the book down." --Don Cherry
 • "Christie is the most honest journalist I know. And Fifteen Days . . . resonates with truth. . . . The framework of this book might be 'Fifteen Days' . . . yet the exposition is more sweeping, infused with context, texture and candour." --Rosie DiManno, Toronto Star
 • "Blatchford has a remarkable ability to convey the intensity of the emotions experienced by soldiers and their families. Do not expect to remain dry-eyed after reading this book." --Calgary Herald
 • "[Fifteen Days] goes deep, and it goes personal. It tells the stories behind the stories. . . . For those who died wearing Canada's uniform, [Blatchford] gives them a life that no newspaper has the length and space to describe, and no television documentary can convey in an hour's time slot." --The London Free Press
 • "A vivid and heroic portrayal of death in Afghantistan. . . . Fifteen Days is a good start to understanding the Canadian men and women who are fighting in Afghanistan." --The Chronicle-Herald (Halifax)