We're following all official guidelines to keep ourselves healthy on the job, and as a result, shipping may be delayed.
You will receive an email from our web orders team confirming that your order has been processed.
We thank you for your support and your patience at this challenging time.
How to Speak Money: What the Money People Say-And What It Really Means (Hardcover)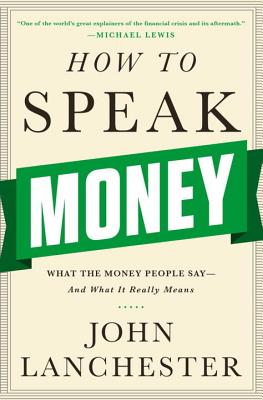 Special Order—Subject to Availability
Description
---
An entertaining and indispensable guide to the language of finance and economics by the writer hailed for "explain[ing] complex stuff in a down-to-earth and witty style" (The Economist).
To those who don't speak it, the language of money can seem impenetrable and its ideas too complex to grasp. In How to Speak Money, John Lanchester—author of the New York Times best-selling book on the financial crisis, I.O.U.—bridges the gap between the money people and the rest of us.
With characteristic wit and candor, Lanchester reveals how the world of finance really works: from the terms and conditions of your personal checking account to the evasions of bankers appearing in front of Congress. As Lanchester writes, we need to understand what the money people are talking about so that those who speak the language don't just write the rules for themselves.
Lanchester explains more than 300 words and phrases from "AAA rating" and "amortization" to "yield curve" and "zombie bank." He covers things we say or hear every day—such as GDP, the IMF, credit, debt, equity, and inflation—and explains how hedge funds work, what the World Bank does, and why the language of money has gotten so complicated. Along the way he draws on everything from John Maynard Keynes to the Wu-Tang Clan, Friedrich Hayek to Thomas Piketty, The Wealth of Nations to Game of Thrones.
A primer, a polemic, and a reference book, How to Speak Money makes economics understandable to anyone. After all, "money," as Lanchester writes, "is a lot like babies, and once you know the language, the rule is the same as that put forward by Dr. Spock: 'Trust yourself. You know more than you think you do.'"
About the Author
---
John Lanchester is the best-selling author of The Debt to Pleasure, Capital, and several other works of fiction and nonfiction. A contributing editor to the London Review of Books and a regular contributor to The New Yorker, he lives in London.
Praise For…
---
An idiosyncratic collection of short, sharp essays translating the jargon of finance with admirable concision and wit.
— Peter Sokolowski

One of the world's great explainers of the financial crisis and its aftermath.
— Michael Lewis

Insightful and often funny… An invaluable primer.
— Ian Critchley

A hugely enjoyable book… Lanchester is a kind of brainy Everyman, a brilliant communicator.
— Melanie Reid

An entertaining and informative read… Witty, provocative and engaging.

How to Speak Money is a wonderful and enlightening book. Refreshingly clear, sharp, and funny, it'll help you understand not only what the language of finance means but also why it matters.

— James Surowiecki, best-selling author of The Wisdom of Crowds

Reading this book is like meeting an easy-going guy at a cocktail party who can explain everything that's always mystified you about high finance—'inverted yield curve,' anyone?—with sparkle, wit, and crystal clarity. And if you're already a finance-insider, you'll get a kick out of Lanchester's sly ironies.
— Jim Holt, best-selling author of Why Does the World Exist?

A terrific primer on financial jargon… Anyone who wants to understand the nightly news should keep this volume at hand.

Lays out the case for financial literacy and then provides an essential glossary of terms for those who would like to achieve this happy state.
— Sarah Lyall
Coverage from NPR