We're following all official guidelines to keep ourselves healthy on the job, and as a result, shipping may be delayed.
You will receive an email from our web orders team confirming that your order has been processed.
We thank you for your support and your patience at this challenging time.
How to Speak Money: What the Money People Say-And What It Really Means (Paperback)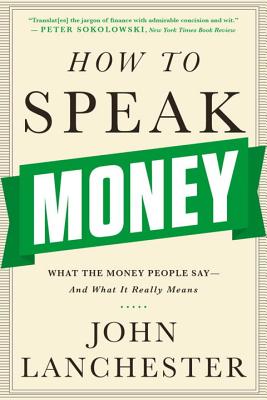 $16.95
Not On Our Shelves—Ships in 1-5 Days
Description
---
"Refreshingly clear, sharp, and funny, How to Speak Money will help you understand not only what the language of finance means but also why it matters." —James Surowiecki, author of The Wisdom of Crowds
To those who don't speak it, the language of money can seem impenetrable. Fortunately, John Lanchester—the best-selling novelist and reporter hailed by The Economist for "explain[ing] complex stuff in a down-to-earth and witty style"—is here to bridge the gap between the money people and the rest of us. With wit and candor, Lanchester explains more than 300 common words and phrases from "AAA rating" and "amortization" to "yield curve" and "zombie bank."
About the Author
---
John Lanchester is the best-selling author of The Debt to Pleasure, Capital, and several other works of fiction and nonfiction. A contributing editor to the London Review of Books and a regular contributor to The New Yorker, he lives in London.
Praise For…
---
Mixes the helpful, the sarcastic and the entertaining…[with] a touch of Ambrose Bierce's Devil's Dictionary about it.

— Jim Higgins

An idiosyncratic collection of short, sharp essays translating the jargon of finance with admirable concision and wit.
— Peter Sokolowski

Lays out the case for financial literacy and then provides an essential glossary of terms for those who would like to achieve this happy state.
— Sarah Lyall

A hugely enjoyable book…Lanchester is a kind of brainy Everyman, a brilliant communicator.
— Melanie Reid

An entertaining and informative read…Witty, provocative and engaging.

Insightful and often funny…An invaluable primer.
— Ian Critchley

One of the world's great explainers of the financial crisis and its aftermath.
— Michael Lewis

Reading this book is like meeting an easy-going guy at a cocktail party who can explain everything that's always mystified you about high finance—'inverted yield curve,' anyone?—with sparkle, wit, and crystal clarity. And if you're already a finance-insider, you'll get a kick out of Lanchester's sly ironies.
— Jim Holt, best-selling author of Why Does the World Exist?