We're following all official guidelines to keep ourselves healthy on the job, and as a result, shipping may be delayed.
You will receive an email from our web orders team confirming that your order has been processed.
We thank you for your support and your patience at this challenging time.
The Nation City: Why Mayors Are Now Running the World (Hardcover)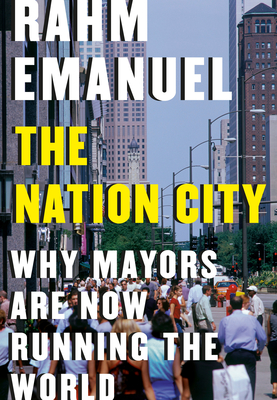 Description
---
At a time of anxiety about the effectiveness of our national government, Rahm Emanuel provides a clear vision, for both progressives and centrists, of how to get things done in America today--a bracing, optimistic vision of America's future from one of our most experienced and original political minds.

In The Nation City, Rahm Emanuel, former two-term mayor of Chicago and White House Chief of Staff for President Barack Obama, offers a firsthand account of how cities, rather than the federal government, stand at the center of innovation and effective governance. Drawing on his own experiences in Chicago, and on his relationships with other mayors around America, Emanuel provides dozens of examples to show how cities are improving education, infrastructure, job conditions, and environmental policy at a local level.

Emanuel argues that cities are the most ancient political institutions, dating back thousands of years and have reemerged as the nation-states of our time. He makes clear how mayors are accountable to their voters to a greater degree than any other elected officials and illuminates how progressives and centrists alike can best accomplish their goals by focusing their energies on local politics. The Nation City maps out a new, energizing, and hopeful way forward.
About the Author
---
RAHM EMANUEL was the fifty-fifth mayor of Chicago, serving two terms from 2011-2019. He previously served as President Obama's chief of staff, President Clinton's senior advisor, and as chairman of both the Democratic Congressional Campaign Committee and the House Democratic Caucus. He is a contributor to ABC News and lives in Chicago.
Praise For…
---
 "Emanuel makes a strong case for the vitality of local governance in an age of dysfunction…Emanuel describes eloquently the importance of city parks… With its command of the details of urban governance and its manifest appreciation for what cities can offer, The Nation City helps us understand why Americans are increasingly looking to mayors for political leadership."
—Mason B. Williams, The New York Times Book Review

"Emanuel... invents a new genre for mayoral tomes... He makes a compelling argument that in our current political situation, local politics and the mayors who run cities large and small do indeed matter more than ever before... It should not be beyond us to see the solid argument he makes about the crucial unifying and energizing role of cities, and their mayors, in an era of national political divisiveness and paralysis."
—Bill Savage, Chicago Tribune

"Rahm Emanuel is a unique leader who combines a deep understanding of policy with the political skills to get things done. In The Nation City, he offers a new blueprint for making a progressive vision a reality—and shows why cities are increasingly America's laboratories of democracy."
—President Bill Clinton, 42nd President of the United States

"The Nation City surprised me⁠—and in a good way. I had known of Rahm Emanuel as a practicing politician. This book shows how deeply he has thought and inquired into the next stage of governance, in the U.S and around the world. This is a clear, detailed, practical and optimistic guide to the real center of political action. Mayors will want to read this book—and so should anyone looking for creative ideas about the local path to national renewal."
⁠—James Fallows, contributor to The Atlantic and co-author of Our Towns

"Rahm's leadership as reflected in this book stimulates thought and encourages innovation among city leaders to move our cities from the industrial age to George Orwell's "technocracy." This is a must read for urban planners to view cities like Chicago, New York, and Los Angeles as the Roman-styled nation states. The Nation City gives you a lesson in how to manages these responsibilities and provides a blueprint for success." 
⁠—The Reverend Jesse Jackson Sr., founder and president of the Rainbow PUSH Coalition

"It's no accident that Chicago Public Schools emerged as a national leader in urban education after 2011. By leading with a focus on what kids need to be successful and by promoting policies and programs that raise expectations for our schools, teachers and students, CPS became a national outlier for academic progress under Mayor Emanuel. There's wisdom to be gained from our successful effort to pair higher expectations with greater levels of support, and that progress would not have occurred without bold, visionary leadership from the mayor's office. The Nation City shows how this kind of leadership can make a real difference across the country."
—Dr. Janice K. Jackson, CEO of Chicago Public Schools


"An eloquent tribute to the potential benefits of mayoral influence... Emanuel could have penned a traditional memoir; instead, he focuses on duty and service... The narrative is far from a political screed and more of a manifesto about how communities can take care of themselves by concentrating efforts on the local level... He shines a compelling spotlight on that most elusive of ideals: hope."
⁠—Kirkus Reviews