Margaret Fuller: A New American Life (Hardcover)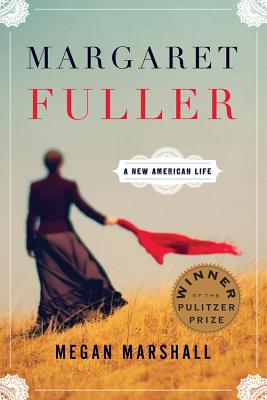 $30.00
Special Order—Subject to Availability
Description
---
Winner of the Pulitzer Prize for Biography
From an early age, Margaret Fuller provoked and dazzled New England's intellectual elite. Her famous Conversations changed women's sense of how they could think and live; her editorship of the Transcendentalist literary journal the Dial shaped American Romanticism. Now, Megan Marshall, whose acclaimed The Peabody Sisters "discovered" three fascinating women, has done it again: no biography of Fuller has made her ideas so alive or her life so moving.

Marshall tells the story of how Fuller, tired of Boston, accepted Horace Greeley's offer to be the New-York Tribune's front-page columnist. The move unleashed a crusading concern for the urban poor and the plight of prostitutes, and a late-in-life hunger for passionate experience. In Italy as a foreign correspondent, Fuller took a secret lover, a young officer in the Roman Guard; she wrote dispatches on the brutal 1849 Siege of Rome; and she gave birth to a son.

Yet, when all three died in a shipwreck off Fire Island shortly after Fuller's fortieth birthday, the sense and passion of her life's work were eclipsed by tragedy and scandal. Marshall's inspired account brings an American heroine back to indelible life.

About the Author
---
MEGAN MARSHALL is the winner of the 2014 Pulitzer Prize in Biography for Margaret Fuller, and the author of The Peabody Sisters, which won the Francis Parkman Prize, the Mark Lynton History Prize, and was a finalist for the Pulitzer Prize in 2006. She is the Charles Wesley Emerson College Professor and teaches narrative nonfiction and the art of archival research in the MFA program at Emerson College. For more, visit www.meganmarshallauthor.com.
Praise For…
---
2014 Pulitzer Prize citation forMargaret Fuller: A New American Life, by Megan Marshall
"Megan Marshall's richly researched and elegantly presented biography of Margaret Fuller reads like a novel – but with a twist. Marshall takes her cue from Hawthorne, who called his books "romances" rather than novels, in order (as he put it) to "bring out or mellow the lights and deepen and enrich the shadows of the picture" while maintaining allegiance to the "truth of the human heart." The result is thrilling. Marshall's keen observations and rigorous analysis are expressed in fresh, creative ways that honor her subject's own imaginative boldness in life and art.

Marshall is keenly aware that there was little distinction between public and private in Margaret Fuller's life. She shows how Fuller, in fact, aimed to break down such a distinction, which she felt hemmed in the lives of women. Marshall, exhilaratingly, writes Fuller's story "from the inside out, using the most direct evidence – her words and those of her family and friends, recorded in the moment." She provides deft and vividly sympathetic reconstructions, bolstered by newly discovered documents, of the interesting times and locales – in Cambridge, New York, and Italy—in which Fuller lived. . . .

Like all great historical works, Margaret Fuller informs us about the past as it forces us to think about our present. Fuller, who helped spark the nineteenth-century movement for women's rights, opened a path that we still follow. Megan Marshall's beautiful rendition of her life inspiringly links past to present, and is a classic of modern biography."

"Megan Marshall's brilliant Margaret Fuller brings us as close as we are ever likely to get to this astonishing creature. She rushes out at us from her nineteenth century, always several steps ahead, inspiring, heartbreaking, magnificent." — Rebecca Newberger Goldstein, author of Betraying Spinoza: The Renegade Jew Who Gave Us Modernity

"Megan Marshall gives new meaning to close reading—from words on a page she conjures a fantastically rich inner life, a meld of body, mind, and soul. Drawing on the letters and diaries of Margaret Fuller and her circle, she has brought us a brave, visionary, sensual, tough-minded intellectual, a 'first woman' who was unique yet stood for all women. A masterful achievement by a great American writer and scholar." — Evan Thomas, author of Ike's Bluff: President Eisenhower's Secret Battle to Save the World

"Megan Marshall's Margaret Fuller: A New American Life is the best single volume ever written on Fuller. Carefully researched and beautifully composed, the book brings Fuller back to life in all her intellectual vivacity and emotional intensity. Marshall's Fuller overwhelms the reader, just as Fuller herself overwhelmed everyone she met. A masterpiece of empathetic biography, this is the book Fuller herself would have wanted. You will not be able to put it down." — Robert D. Richardson, author of Emerson: The Mind on Fire
"Fuller's was a great life, flush with drama, and Megan Marshall's new biography rises to it in ways small and large . . . This one pitches Ms. Marshall into the front rank of American biographers . . . 'Margaret Fuller' is as seductive as it is impressive . . . In Ms. Marshall, Fuller has found what feels like her ideal biographer." -- New York Times
"A lively, intuitive study of a remarkable American character."  — Kirkus Reviews

"The book's success comes from the way that Marshall allows the reader to understand and empathize with Fuller in her plight." —  Publishers Weekly
"[Marshall] inhabits Fuller's dramatic, oft-told story with unique intimacy by virtue of her fluency in and judicious quoting of Fuller's extraordinarily vivid letters . . . Marshall brings stirring historical and psychological insights to Fuller's complicated relationship with Emerson and the other transcendentalists, her journey west and response to the horrific plight of Native Americans, her gripping dispatches on social ills as a front-page columnist for Horace Greeley's New York Tribune, and her triumphs in Europe as 'America's first female foreign correspondent.' How spectacularly detailed and compassionate Marshall's chronicle is of Fuller's scandalous love for an Italian soldier, the birth of their son, her heroic coverage of the 1849 siege of Rome, and her and her family's tragic deaths when their ship wrecks in sight of the American coast. A magnificent biography of a revolutionary thinker, witness, and writer." —Booklist starred review