We're following all official guidelines to keep ourselves healthy on the job, and as a result, shipping may be delayed.
You will receive an email from our web orders team confirming that your order has been processed.
We thank you for your support and your patience at this challenging time.
Together in a Sudden Strangeness: America's Poets Respond to the Pandemic (Hardcover)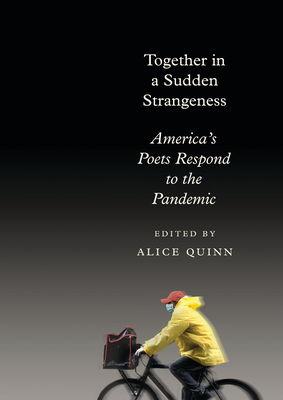 $27.00
Coming Soon—Pre-Order Now
Description
---
In this urgent outpouring of American voices, our poets speak to us as they shelter in place, addressing our collective fear, grief, and hope from eloquent and diverse individual perspectives.

As the novel coronavirus and its devastating effects began to spread in the United States and around the world, Alice Quinn reached out to poets across the country to see if, and what, they were writing under quarantine. Overwhelmed by the response, the onetime New Yorker poetry editor and recent former director of the Poetry Society of America began collecting the compassionate verses that were arriving in her inbox, assembling this various, intimate, and intricate portrait of our suddenly altered reality. Whether grieving for relatives they are separated from, recovering from illness themselves, attending to suddenly complicated household tasks, or considering the bravery of medical workers and the inequities in our society that amplify sorrow and demand our engagement, our poets are just like us, but with the words to describe what can feel unspeakably difficult and strange. From fierce and resilient to wistful, darkly humorous, and emblematically reverent about the earth and the vulnerability of human beings in frightening times, the poems in this collection provide wisdom and companionship, depths of feeling that enliven our spirits, and a poignant summoning to the page of spring's inevitable return.
About the Author
---
ALICE QUINN, the executive director of the Poetry Society of America for eighteen years, was also the poetry editor at The New Yorker from 1987 to 2007 and an editor at Knopf for more than ten years prior to that. She teaches at Columbia University's School of the Arts and is the editor of a book of Elizabeth Bishop's writings, Edgar Allan Poe & the Juke-Box: Uncollected Poems, Drafts, and Fragments, as well as a forthcoming book of Bishop's journals. She lives in New York City.