The United States District Court for the Eastern District of Michigan: People, Law, and Politics (Great Lakes Books) (Hardcover)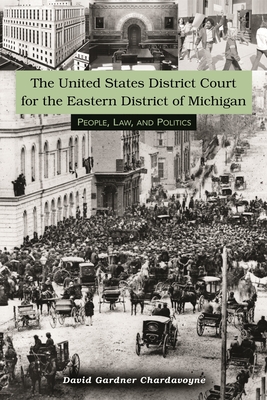 $44.99

Not On Our Shelves—Ships in 1-5 Days
Description
---
The United States District Court for the Eastern District of Michigan, the federal trial court based in Detroit with jurisdiction over the eastern half of Michigan, was created in 1837 and operated as recently as 1923 with a single trial judge. Yet by 2010, the court had fifteen district judges, a dozen senior U.S. district judges and U.S. magistrate judges, and conducts court year-round in five federal buildings throughout the eastern half of Michigan (in Detroit, Bay City, Flint, Port Huron, and Ann Arbor). In The United States District Court for the Eastern District of Michigan: People, Law, and Politics, author David Gardner Chardavoyne details not only the growth of the court but the stories of its judges and others who have served the court, litigants who brought their conflicting interests to the court for resolution, and the people of the district who have been affected by the court.

In chronological order, Chardavoyne charts the history of the court, its judges, and its major cases in five parts: The Wilkins Years, 1837 to 1870; The Industrial Revolution and the Gilded Age, 1870 to 1900; Decades of Tumult, 1900 to 1945; The Era of Grand Expectations, 1946 to 1976; and A Major Metropolitan Court, 1977 to 2010. Along the way, Chardavoyne highlights many issues of national concern faced by the court, including cases dealing with fugitive slave laws, espionage and treason, civil rights, and freedom of speech. Chardavoyne also examines how conflicting interests--political, local, and personal--have influenced the resolution of a myriad of issues not directly related to the court's cases, such as who becomes a federal judge, how many judges the court should have, in which cities and in which buildings the judges hold court, what kinds of cases the judges can and cannot hear, and the geographical boundaries of the district and of divisions within the district.

This volume includes helpful appendixes that list the Eastern District of Michigan Court's Chief Judges, Clerks, Magistrates and Magistrate Judges, and United States Marshals; along with the succession of judges, and a list of District and Circuit Court Case Filings, 1837-2010. Legal professionals and scholars will appreciate this thorough history.
About the Author
---
David G. Chardavoyne is a veteran Michigan lawyer and a legal educator who teaches at Wayne State University Law School and the University of Detroit-Mercy School of Law. He is the author of A Hanging in Detroit: Stephen Gifford Simmons and the Last Execution Under Michigan Law (Wayne State University Press, 2003), and he contributed a chapter to The History of Michigan Law, both of which were named Michigan Notable Books by the Library of Michigan. He is also a frequent contributor to The Court Legacy, the journal of the Historical Society for the United States District Court for the Eastern District of Michigan.