We're following all official guidelines to keep ourselves healthy on the job, and as a result, shipping may be delayed.
You will receive an email from our web orders team confirming that your order has been processed.
We thank you for your support and your patience at this challenging time.
Agency (Hardcover)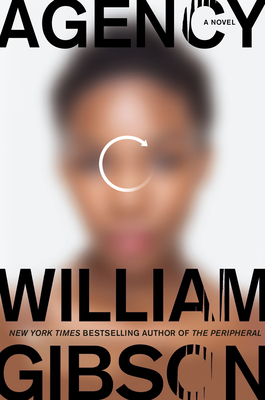 Description
---
AN INSTANT NEW YORK TIMES BESTSELLER

"ONE OF THE MOST VISIONARY, ORIGINAL, AND QUIETLY INFLUENTIAL WRITERS CURRENTLY WORKING"* returns with a sharply imagined follow-up to the New York Times bestselling The Peripheral.
 
William Gibson has trained his eye on the future for decades, ever since coining the term "cyberspace" and then popularizing it in his classic speculative novel Neuromancer in the early 1980s. Cory Doctorow raved that The Peripheral is "spectacular, a piece of trenchant, far-future speculation that features all the eyeball kicks of Neuromancer." Now Gibson is back with Agency—a science fiction thriller heavily influenced by our most current events.
 
Verity Jane, gifted app whisperer, takes a job as the beta tester for a new product: a digital assistant, accessed through a pair of ordinary-looking glasses. "Eunice," the disarmingly human AI in the glasses, manifests a face, a fragmentary past, and a canny grasp of combat strategy. Realizing that her cryptic new employers don't yet know how powerful and valuable Eunice is, Verity instinctively decides that it's best they don't.
 
Meanwhile, a century ahead in London, in a different time line entirely, Wilf Netherton works amid plutocrats and plunderers, survivors of the slow and steady apocalypse known as the jackpot. His boss, the enigmatic Ainsley Lowbeer, can look into alternate pasts and nudge their ultimate directions. Verity and Eunice are her current project. Wilf can see what Verity and Eunice can't: their own version of the jackpot, just around the corner, and the roles they both may play in it.
 
*The Boston Globe
About the Author
---
William Gibson's first novel, Neuromancer, won the Hugo Award, the Nebula Award, and the Philip K. Dick Award. He is also the New York Times bestselling author of Count Zero, Burning Chrome, Mona Lisa Overdrive, Virtual Light, Idoru, All Tomorrow's Parties, Pattern Recognition, Spook Country, Zero History, Distrust That Particular Flavor, and The Peripheral. He lives in Vancouver, British Columbia, with his wife.
Praise For…
---
"Engaging, thought-provoking and delightful… [Gibson] can always be counted on to show us our contemporary milieu rendered magical by his unique insights, and a future rendered inhabitable by his wild yet disciplined imagination."—The Washington Post

"Superb... Each sentence is a hand-turned marvel of compact characterization, world-building and sardonic wit, all used to illuminate his vivid milieus…Gibson has an inexhaustible supply of tricks, new stories and new ways of telling them that make him the most consistent predictor of our present, contextualizer of our pasts and presager of our possible futures."—Los Angeles Times
 
"An immersive thriller, fueled by an intelligent, empathetic imagination."—The Boston Globe

"A sensual, remarkably visual ride, vigorous with displays of conceptual imagination and humour." —The Guardian (UK)
 
"Gibson blurs the line between real and speculative technology in a fast-paced thriller that will affirm to readers that it was well worth the wait."—Booklist

"His language (half Appalachian economy, half leather-jacket poet of neon and decay) is all about friction and the gray spaces where disparate ideas intersect. His game is living in those spaces, checking out the view, telling us about it." – NPR.com

"In Agency Gibson offers another of his uncannily plausible imaginings of near-future life and technology…with Gibson's trademark panache, the story rattles along with great pace and suspense." –The Sunday Times (UK)
Coverage from NPR