We're following all official guidelines to keep ourselves healthy on the job, and as a result, shipping may be delayed.
You will receive an email from our web orders team confirming that your order has been processed.
We thank you for your support and your patience at this challenging time.
Dying of Whiteness: How the Politics of Racial Resentment Is Killing America's Heartland (Paperback)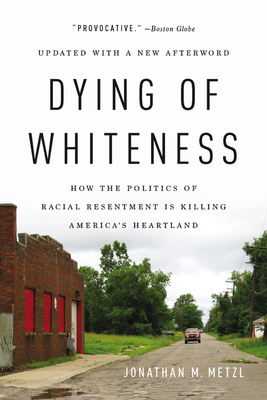 Description
---
A physician's "remarkable" account of how right-wing backlash policies have mortal consequences (Minneapolis Star Tribune) -- even for the white voters they promise to help.
In election after election, conservative white Americans have embraced politicians who pledge to make their lives great again. But as physician Jonathan M. Metzl shows in
Dying of Whiteness
shows, the policies that result actually place white Americans at ever-greater risk of sickness and death. Interviewing a range of everyday Americans, Metzl examines how racial resentment has fueled progun laws in Missouri, resistance to the Affordable Care Act in Tennessee, and cuts to schools and social services in Kansas. e shows these policies' costs: increasing deaths by gun suicide, falling life expectancies, and rising dropout rates.
Now updated with a new afterword, Dying of Whiteness demonstrates how much white America would benefit by emphasizing cooperation rather than chasing false promises of supremacy.
About the Author
---
Jonathan M. Metzl is the Frederick B. Rentschler II professor of sociology and psychiatry at Vanderbilt University and director of its Center for Medicine, Health, and Society. He is the author of several books and a prominent expert on gun violence and mental illness. He hails from Kansas City, Missouri, and lives in Nashville, Tennessee.

Praise For…
---
"Provocative...brings a unique blend of psychiatric insight and data analysis-as well as some nifty philosophical insights into what people mean by concepts of risk, cost, and community-to a problem that will no doubt persist even beyond our current presidency."—Boston Globe

"Malcolm X began by adoring whiteness, grew to hate white people and, ultimately, despised the false concept of white superiority-a killer of people of color. And not only them: low- and middle-income white people too, as Metzl's timely book shows, with its look at Trump-era policies that have unraveled the Affordable Care Act and contributed to rising gun suicide rates and lowered life expectancies."—New York Times Book Review

"Traveling through the American heartland, a physician deconstructs how right-wing policies have fatal consequences, even for the voters they purport to help. Metzl paints a blistering portrait of a subculture so in thrall to racist ideology that they willingly invite rising gun suicides, poor healthcare, and falling life expectancies."—Esquire

"Metzl allows citizens to speak for themselves, adding authenticity to his project...As the tragedies that Metzl illustrates become more widely known, perhaps reason and humility will regain their place in American political discourse."—Chapter 16

"Remarkable...Through field interviews, research and public-health data, Metzl shows that whites are harming themselves along with everyone else, and in drastic ways...A weighty but smooth read, devoid of polemics or jargon."—Minneapolis Star Tribune

"Insightful and original."—National Book Review

"Groundbreaking...Metzl methodically and adeptly marshals statistical evidence that policies promising to bolster white Americans' status have instead made life 'sicker, harder, and shorter' for all..."—Publishers Weekly

"A provocative, instructive contribution to the literature of public health as well as of contemporary politics."—Kirkus Reviews